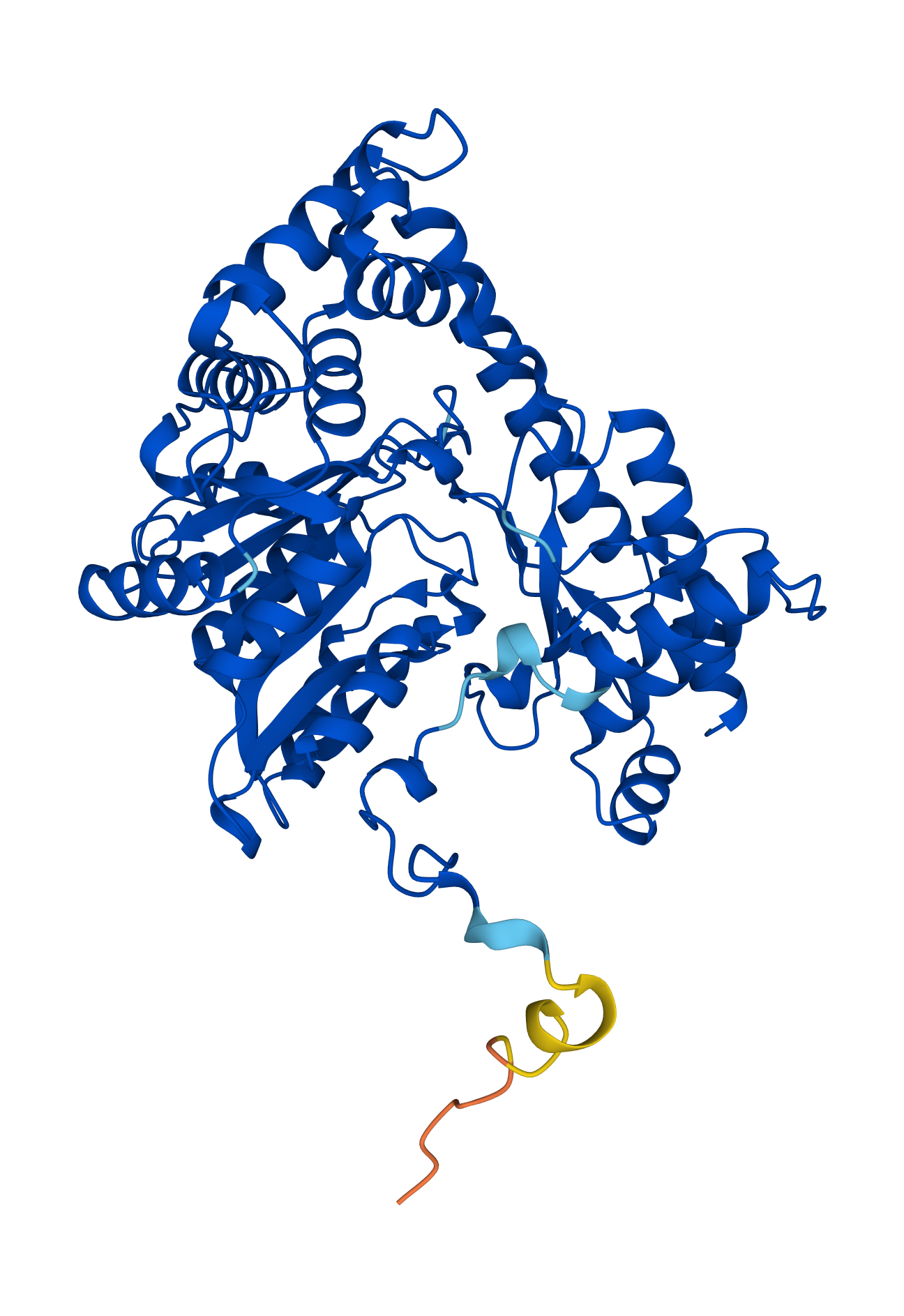 Synonymes
ALAT, alanine aminotransférase
(S)GPT, (serum) glutamaat-pyruvaat transaminase
EC 2.6.1.2
Physiologie
L'alanine aminotransférase catalyse le transfert du groupe alpha-amino de l'alanine à l'oxoglutarate avec production de pyruvate et de glutamate. L'ALT se retrouve principalement dans le cytoplasme (et seulement en petites quantités dans les mitochondries). Pour une activité optimale, comme l'AST, cet enzyme nécessite le cofacteur P5P.
Spécificité
L'ALT est présent dans le tissu hépatique, musculaire (coeur et squelettique), rénale et les globules rouges.
L'ALT est assez spécifique pour le foie chez le chien chat, furet, et primates. A un moindre degré chez le lapin et les rongeurs.
Le tissu hépatique chez des grandes herbivores et porcine contient une activité enzymatique faible limitant l'utilité.
L'ALT est peu spécifique pour le foie aviaire et reptilien.
Sensibilité
Haute pour l'inflammation, la nécrose, la lipidose  et le néoplasme primaire hépatique.
Plus faible pour la congestion, le néoplasme métastique ou les anomalies vasculaires portosystémique.
Prélèvement
---
Mis à jour le 9 janvier 2023 à 01:00
Références
1.
Valentine B, Blue J, Shelley S, Cooper B. Increased serum alanine aminotransferase activity associated with muscle necrosis in the dog.
J Vet Intern Med
. 1990;4(3):140-143.
[PubMed]
2.
Swenson C, Graves T. Absence of liver specificity for canine alanine aminotransferase (ALT).
Vet Clin Pathol
. 1997;26(1):26-28.
[PubMed]
3.
Sorensen K, Venn-Watson S, Ridgway S. Trace and non-trace elements in blood cells of bottlenose dolphins (Tursiops truncatus): variations with values from liver function indicators.
J Wildl Dis
. 2008;44(2):304-317.
[PubMed]
4.
Venn-Watson S, Smith C, Jensen E. Assessment of increased serum aminotransferases in a managed Atlantic bottlenose dolphin (Tursiops truncatus) population.
J Wildl Dis
. 2008;44(2):318-330.
[PubMed]
5.
Fauquier D, Mazet J, Gulland F, Spraker T, Christopher M. Distribution of tissue enzymes in three species of pinnipeds.
J Zoo Wildl Med
. 2008;39(1):1-5.
[PubMed]
6.
Jerry Kaneko J, W. Harvey J, L. Bruss M. Clinical Biochemistry of Domestic Animals. Academic Press; 2008.
7.
Quesenberry K, W. Carpenter J. Ferrets, Rabbits and Rodents - E-Book. Elsevier Health Sciences; 2011.
8.
Montalvo V, Cruz M, Ahmad I, et al. Hepatitis E virus in bottlenose dolphins Tursiops truncatus.
Dis Aquat Organ
. 2017;123(1):13-18.
[PubMed]
Récement sur pubmed
Chien
Search PubMed
Chat
Search PubMed
En savoir plus?